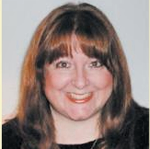 My husband Stephen M. Shortley was 37 years old when he died on USAir Flight 427 in Pittsburgh on September 8, 1994. We were high school sweethearts, married for twenty years with two teen-aged children. This is an excerpt from my book, Widowed Without Warning:
Holidays used to be a festive occasion in our home. I would decorate the inside of the house with beautiful Christmas displays while Steve decorated the outside of the house with little white twinkle lights. The first Christmas after he died, I did not want to celebrate the season. I had no magical holiday feeling. I could not imagine how I was going to get through Christmas and then New Years Eve without the man I had been spending these special occasions with for the past two decades. I had no desire to shop or buy presents. I did not want to receive any gifts either. The only present that I wanted was my husband.
Walking through the festively decked shopping malls listening to Christmas carols, watching people scurry about, knowing they would be going home to their normal happy cookie-scented holiday households made my eyes tear up with sadness. If I did not have my children, I would have taken a flight to some deserted island until January 2nd. It was unbearable.
For the first two Christmas seasons, I would go through the boxes of decorations and find Steves Christmas stocking and the ornaments with his name and not know what to do with them. I would hold them and cry. Then gently put them back into the box. The third Christmas, I cried a little less and put the ornaments on the tree. But I still placed all of our stockings back into the box. I did not want to hang his stocking and yet, I did not want to hang my mine and my childrens without his. There would have been a visible void seeing just three where there used to hang four. I thought it best to put all of them back into the attic. 
That first year, just three months after the plane crash, my children and I tried with all of our might to maintain a tradition with just the three of us. I felt it was important that we remain a family no matter how difficult it was for the three of us to continue without the fourth major part of our household. Sad and pathetic are two words that come to my mind to describe the three of us exchanging gifts and trying to pretend this was a festive occasion. We were three souls on the ship of life lost without our captain. I had to take over the captains role because I knew they were looking to follow me now. Thing is, I was in no shape to lead. I dreaded this festivity as much as them. Lisa, Dan and I had so much empathy and love for one another that somehow we made it through the exchange. None of us were really thrilled to unwrap presents, but we went through the motions. We all went to bed that night knowing that at least we tried.
Each year celebrating the holidays became easier and easier. Here we are seven years later, I am happily remarried and my two children now have three new sisters. Holidays are happy again. I still gently unwrap my first husbands ornaments and stocking each year with a sigh, but it doesnt hurt as much as it did that very first year. Time does mend.  It doesnt heal. But it does hurt less and less.
Joanne Shortley-Lalonde, author of Widowed Without Warning, lost her husband Stephen M. Shortley, 37, aboard USAir Flight 427, Pittsburgh, PA, on September 8, 1994