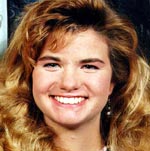 On January 9, 1997, I lost a beautiful 26-year-old woman who wasnt supposed to die. Flight attendant Darinda Ogden-Nilsen, my wife of four years, perished on ComAir 3272 when it stalled and plummeted in the winter sky. There was no preparing me for this sudden turn of events. My life changed instantly and nothing would ever be the same again. 
With the help of friends and family, whom I can never repay, I am here only a few years later in a position of strength, allowing me to bring support and encouragement to those in need. What follows is a brief summary of advice, based on my experience, to help those now suffering deeply. 
Grief is a difficult journey and one that must move on your time schedule. Dont let anyone tell you how you should feel, or how long you should grieve. Grieving will take as long as it has to. Unless your friends and family are going through the same exact situation, they have no idea about your unique grief situation. Spend the most time with caring friends and relatives that lend a listening ear. 
This is what I recommend to those in the recovery process:
1)    Get Busy/Take Action " dont let grief paralyze you. Join a support group, get involved at church, start a hobby, take a course at the local college, exercise daily, read a book, etc. Let family and friends help you keep an active life.
2)    Rid Yourself of Guilt " accept the fact that no relationship is perfect. Learn from any mistakes you made.
3)    Pray " ask God to help you in the recovery process because you cannot do it alone.
4)    Make a list of the positive things in your life. This could include the beautiful aspects of your relationship with your loved one. Brainstorm and you will come up with many items for your list. Now keep that list handy for future reference; specifically for depressed moments – times when you need to be reminded.
5)    Set Goals " visualize where you want to be in your life six months from now, a year, etc. Although it is very difficult to picture your life without your loved one in it, it is important that you do this.
Understand that there will be ups and downs during the many months of grieving. You may suffer deep depression or encounter a panic attack. Of course, these experiences are only normal. Helen Keller once stated: When one door of happiness closes, another opens; but often we look so long at the closed door that we do not see the one which has been opened for us. Your loved one would not want you to stare at that closed door, but rather to search for the open ones. Make the important decision to choose to live a full and growing life. By doing so, its the best memorial you can ever give your loved one.
Richard Nilsen lost his wife and college sweetheart, Darinda Ogden-Nilsen, 26, January 9, 1997 on ComAir flight 3272 in Monroe, MI