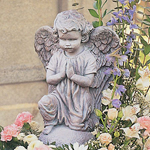 I hear the words theres been an accident. A plane has crashed and a rescue team is on the scene. There is movement and reason for hope, but were not sure if the movement is survivors or villagers. I look at people looking at me. I sit on my eyeglasses gee; I need to get them fixed. Where did I get them? Oh yeh, Pearl Vision- that one in Stamford. I know theyre dead. I need to call my sister and my dad. What are these words coming out of my mouth? Who is this Kimberly from the State Department? Did she say something about a volcano or bad weather? Or both? Where are they? Hmm…maybe they are alive. I can still see them. I can still hear them. 
My house is a mess. Why are all these people here? My kids are miraculously taken care of for days, weeks, and months. Funerals to plan"one for each or one for all three? On Lufthansa they arrive from Nairobi. Theyre at the funeral home in brown boxes. Wow, they look a lot different from the last time I saw them. 
Did they know their fate? Did they hold hands? What was that about 17 seconds? I hope they werent in trouble for that long. Did they know that the survivors would never be the same? Did they know how much we loved them? They will never know that heartache truly means that your heart can ache to the point where you cant breathe? 
You are born alone, die alone and grieve alone. Grief is the most personal thing I have ever been through. Too bad I dont have mom, Robbie and Cam to help me go through it. Am I forty years old and I still need my mom and two brothers? Always. What has happened to my ten-year happy marriage? How can one split second change so many lives? This must be a bad movie; it must be somebody elses life.
Im telling my eight-year-old son about the World Trade Center. I say, Theres been a plane crash. He starts to cry. Oh boy did I start this conversation wrong. Let me start a different way, so far everyone we know is fine, but there are going to be a lot of people who are going to be as sad as mommy has been for the last two years. God bless them all.
Lisa Ennis Barron, CT, lost her mother, Betsy Hoffman, 76, her brother Rob Ennis, 41, and twin brother, Cam Ennis, 39, on September 1, 1999 on Northern Air of Arusha in Mt. Meru, Tanzania