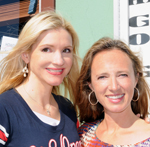 We had a full house with over 150 guests at the ACCESS Baseball & Birdies Charity Event at the Hi Dive next to the San Francisco Giants stadium.
The event celebrated the launch of the US Open and that evenings San Francisco Giants game. We auctioned & raffled off once-in-a-lifetime VIP passes to the US Open & tickets to what turned out to be Matt Cains Perfect Game.
We are so grateful to our incredibly generous ACCESS fans that made the evening most fun and a home run!