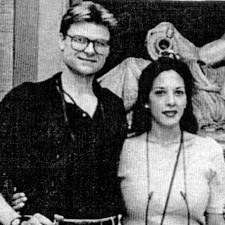 Getting through the holidays, especially Christmas is not going to be easy. There are so many wonderful memories of being in Teaneck, NJ at Lori and Michaels newly purchased lovely Tudor house. John (my husband) and I made our first trip to the new house Christmas 1996 and they had just moved in that November. Michael had spent many hours before redesigning the kitchen and it was under construction, but we managed to use it in its disarray. The dining room was filled with large boxes containing large appliances. We put a couple of them together, covered them with one of Loris new tablecloths and we made a fresh arrangement of green garlands with a great red and gold bow for the table centerpiece. I brought a white and gold poinsettia garland for the fireplace mantle and sis, Janice and Lori put up their first Christmas tree. Lori wanted it all in white and gold, and together they made the beautiful white and gold bow tree topper. I bought a white and gold tree skirt for it. 
There wasnt much furniture in the house but Michael made up for it with his 12 course meals. Together we worked in the kitchen with Michael to put together these feasts. A new baby in the family, William Wallace, only three days old was our special little guest. Of course we went shopping in New York together and forged our way through the crowds even the day after Christmas.
The following Christmas at Lori and Michaels house there was a large gathering of the Ditchkus, the Moran and the Wallace family. We sang Christmas carols together, ate the many course meals, planned well in advance by Michael, while Lori and I helped with the cooking and cleaning up. The kitchen was the main gathering place and thats where all the love was. Always, Lori would pour us a glass of wine, because Italians cant cook without a glass of wine, and we worked side-by-side in the cozy kitchen preparing Michaels planned meals. A loving atmosphere was truly felt in the house.
Lori and Michael loved to have milestone birthday parties with plenty of food. They celebrated Michaels mother Elenores 65th and Loris dads 70th and Lori had said that she would have a great 65th" for me the next year. Unfortunately, Lori and Michael were taken from us before my 65th" birthday. I shall always remember these very happy times each and every Christmas, and cherish the wonderful memories of our time together. September 2nd has a two-fold memory. One wonderful one on their wedding day on September 2nd 1995, and that horrific day September 2nd 1998. We all try to remember the joyous one instead.
Lori and Michaels wonderful energy is still with us. The folks at the Ice House Skating Rink in Hackensack, NJ where Lori was a Co-Director / Co-Founder/ Skating Coach, dedicated their number one rink to Lori with a wonderful plaque on the wall of the rink. The Lori Moran-Ditchkus Memorial Skating Fund was established and a yearly competition bearing her name was born this year. On September 2nd of this year the American Academy Skating Clubs competition was held (which she helped found). The fact that September 2nd was the only date available for this first competition, makes us feel that Lori is still working behind the scenes for her beloved figure skating students at the Ice House. They tell me they miss her terribly and miss that combustible laugh that filled the air when she entered the building, as well as her smiling face. I am told that they feel her presence all around the rink and sometimes think they see her for a fleeting second moving around the skating rink…We feel her presence around us, too.
Love forever, Lori and Michael, from Terry & John Moran, Mother and Father to Lenora Ann (Lori) Moran-Ditchkus, John Moran, Jr. (Brother), Janice Wallace (Sister)
Lenora and Michael Ditchkus were killed aboard Swissair Flight 111 on September 2, 2000 in Halifax, Nova Scotia
(Written and submitted by: Terry Moran)