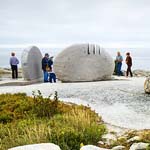 A Loved One's Prayer
In Loving Memory
For the families of
Swissair Flight #111
Be near me Lord when I need you the most,
Open up your arms and hold me close.
Take me under your wing and keep me there,
Away from the hurt and grief I bear.
Walk with me Lord through the sad days ahead,
Give me love and strength from morn till bed.
Within myself my pain is so strong,
With hope in my heart you can lead me on.
Through tears and pain can I only grow,
At this point in my life I can't let go.
Heal my wounds and steer me right,
Maybe then in the end I will win my fight.
As time passes by I will realize then,
How wonderful life can become again.
I know in my heart you will always be there,
To love and guide me because you care.
So be near me my Lord in this time of need,
Only with your love I will heal indeed.
Amen
I lost my father in 1996 and at that time I had written this poem for my mother. My mother was diagnosed with cancer a few months after that and I lost her one year later. We all have different losses but the pain is the same. I am so very, very sorry for all the families. I hope my prayer will help in some small way. God Bless!
-Mary E. Ferrari
©1996